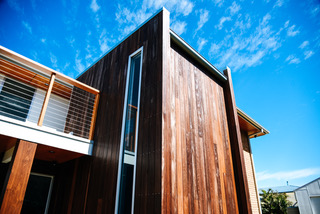 Award Winning Renovation Project in Northern NSW, No.4
PROBLEM:
Downstairs;  No decent entry at ground level, bathroom pokey and dark, laundry too dark.
Upstairs;  Views very restricted, lack of good flow to living areas, lack of cross flow ventilation, no decent outdoor entertaining.  The whole building design outdated, tired and poorly designed for today's modern lifestyle.
SOLUTION:
Downstairs;  We demolished 2 stairs and replaced with one stair located on the side of building adjacent to the new entry at the front of the building. We designed extra storage and provided an extra bedroom by extended to under the existing balcony. We designed a new bathroom and laundry to the rear of the house so that it would be more practically located with access to the back yard and clothes line.
Upstairs; We demolished one room and designed the master suite over to the south side to make way for a new large living room on the north side that connects with the new kitchen. We designed larger windows to the outside eastern walls opening up for the ocean views and ventilation with room for the new dining position and day lounge.
We redesigned the exterior walls, covering the dated brickwork where practical and added new walls clad in recycled hardwood vertical cladding and also hardwood battens designed vertically as a feature to the front of the house.
This renovation design in Northern Rivers picked up 2 awards for the builder:
2017 Winner HIA Northern NSW Renovation Addition Project $201kto $600k
2017 Winner HIA Northern NSW Renovation Addition "Project of the Year"
2017 HIA Finalist for overall "Home of the Year"
And also one for us:
2017 Winner BDAQ Best Renovation and Addition up to $350k.
https://arcodesigns.com.au/arco/wp-content/uploads/2020/06/5e6093dd97d035573d6940c2_Sea-Sewell-504-of-1-230.jpeg
214
320
Nick Castle
Nick Castle
2020-06-09 22:35:17
2020-06-09 22:35:17
Award Winning Renovation Project in Northern NSW, No.4