THEIR
SAY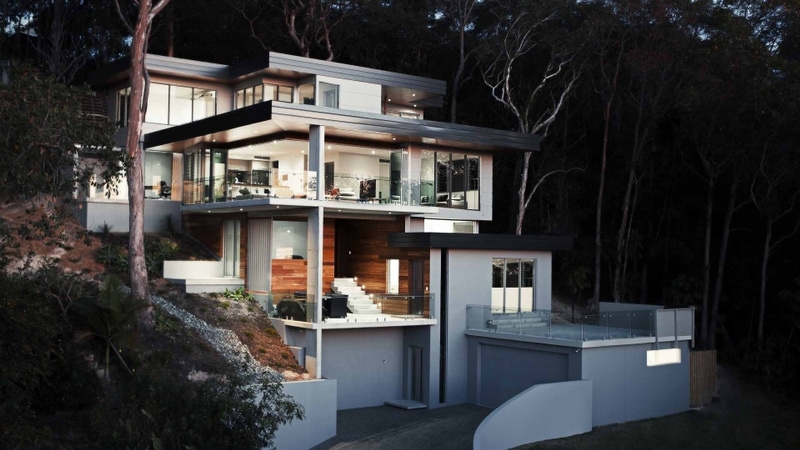 We engaged Will Collins to provide us advice and ideas on several existing homes we were considering buying on the Gold Coast. He helped save us from purchasing a dud and on the second home, gave us invaluable feedback and ideas on how to improve the property without spending a fortune. Will has a great eye for detail and is very generous with his time.  Best few hundred we spent buying our new home.
Lancia and John
We just recently moved into our new home, designed by Arco. They were fantastic to work with from start to finish – excellent service and communication. They really listened to our brief and what we were looking for, creating a beautiful family home for us. Our build wasn't a straight forward one either, the block had challenges in that it was steep and there were access issues. We feel that Will and the team really overcame this, delivering just what we were looking for and hitting the design button on the head. We wouldn't hesitate to recommend Arco Designs to anyone looking for a quality design, that is architecturally stunning, while still completely functional and catering for the environment you live in.
Oryana and Yuvi
After purchasing a rather steep block of land, we contacted Mariana Claro of Arco Designs to design our new home. Our project ended up being a lot more involved than we or Mariana realised due to the building restrictions the Council were enforcing on our land. Mariana took on the challenge, liaising with her town planning and certifier contacts, working through very challenging planning conditions to obtain the building approval we were after. Mariana listened to what our specific needs and wants for the house entailed, and designed a home that maximised the space on our small block of land. Her vision for our multi-level home is not only beautiful but is also extremely functional based on the needs of our family. It has been a lengthy and drawn out process dealing with all of the challenges associated with our block, but Mariana has been there guiding and assisting us throughout the whole process. We are just about to commence building and are extremely excited to be finally getting the house we have been dreaming of for so long! Thank you Mariana.
Dana
We recently engaged Will Collins and Mariana Claro to transform a 30 year old basic two story brick beach house into a beautiful space that takes full advantage of the views, breezes and sunshine. We could not have been happier with both the design process and the results. Will and Mariana were both professional to work with and receptive to our goals, flexible in working with our ideas whilst also making clever and creative suggestions that we had not considered. As the house is in a slightly remote location, much of our follow up communication needed to be by phone or email and I was impressed with the speed with which they responded to both myself and our builder. I have no reservations in recommending both Will and Mariana.
‍
Catherine, Minnie Waters
"It was an utmost pleasure to work with Will Collins and Mariana Claro from Arco Designs on the design of our Currumbin Valley home. Now, 18 months after construction was completed, we can only say we are delighted. The result is a fantastic house that now happily hosts three generations of our family. Not only does it cover all our needs but is also a beautiful design that will stand the test of time. On meeting Will and Mariana we were immediately impressed by the way they combine a professional approach with their warm and infectious manner. They embraced the challenging block and ensured that the right aspect plus all of our design wishes were met. They managed to capture our quest for sustainability and design without compromising on either. Mariana and Will approached this project with a unique combination of passion and practicality to ensure that our dream came true. We would like to take this opportunity to enthusiastically recommend Will Collins and Mariana Claro."
‍
Isabelle and Nicholas, Currumbin Valley
Mariana of Arco Designs designed a new front entry for our childcare centre. She was able to incorporate our ideas in a stylish and playful way that will invite families into the centre and let the community know what is inside the building. A builder quoting on the job said her plans were very detailed and made his job so much easier. She assisted us in sourcing the necessary approvals, including engineering plans. All this was done in a time and considered way. We can't wait for the renovations to start. Thank you!
‍
Judy, Tweed Heads
"Will and Mariana have been a pleasure to work with. They have provided us with a house design that is striking, practical and sustainable and which makes excellent use of our sloping block. I am a chartered engineer and project management professional and so my expectations in terms of architectural and engineering skills are high. I have not been disappointed. Their diligence, patience and attention to detail has been as impressive as their flair for modern building design. Their completed work is of a very high quality, particularly considering their modest fees. We are very happy with the outcome of the design process and would not hesitate to recommend."
‍
Rob and Helen, Mudgeeraba
"Having built 4 houses previously, we thought we had a good idea of what we wanted to build. Will took us to another level, nothing like we could have imagined. We are now living in our new house, nestled in the trees at Currumbin. Will has designed a house which compliments the bush setting, with a blend of concrete, timber, copper and so many other amazing features. We couldn't be happier and Will's architectural insight has resulted in the most amazing home."
‍
Tim and Kaye, Currumbin
"We recently purchased a unique property on the Gold Coast. In order for this property to fulfill its true potential requires the vision and creativity of Will Collins. Will was easily able to take our ideas from an initial meeting and in no time deliver the home from our imaginations into working drawings. Will was the perfect blend of visionary and professional to give our ideas some life. We are not the only ones who think Will Collins is the best at what he does, our new home received the prestigious BDAQ Gold Coast Renovation of 2015. Will has designed our family the perfect home!"
‍
Tahi and Vicky, Palm Beach
"Will has been incredible to work with and has taken the stress out of a challenging and daunting task. He really listened to what we wanted and what was important to us and made some great suggestions and design ideas without compromising our ideals. We loved the way he worked and all of his support throughout our design process. If anyone is looking for a great journey in building their dream we strongly suggest speaking with Will and his team."
‍
Clive and Heidi, Currumbin Valley
Working with the ARCO team has been like working with family, an absolute pleasure.
Our years of ideas have easily been turned into beautiful home. Now it's the builders turn to make it a reality. (no pressure David).
I highly recommend anyone looking for a great design team to take their idear to ARCO and watch the magic happen.
‍
Nu
We highly recommend ARCO Designs, they are extremely professional, easy to work and always helpful.   Will, Rita and Mariana have a wealth of knowledge and produce amazing designs to suit the clients brief.   They have the latest technology and produce detailed plans which is very helpful to the builder and client to foresee their proposed build.  They are always keeping themselves up to date with the latest design trends.
‍
McGowan Homes
We couldn't be happier with our decision to use Arco Designs for our renovation project. The whole team have been so easy to deal with. From their designs and ideas you can really tell they actually listen to the clients needs and tastes and in our particular situation – they have created something we couldn't have dreamed up ourselves. We can't wait to finish this project and bring their designs to life!
‍
Matt
Thank you Mariana, Will and Rita. We are just about to start our build and you have been a pleasure to work with. Love your ideas, attitude and skill.
‍
George
Will and his team have piles of experience and awesome ideas for sustainable design, suitable for modern living. I would highly recommend!
‍
Shelli